Welcome
.
梣館 [Tonerikokan]
Tonerikokan dojo Swindon practice the arts of Iaido and Jodo
The class is run by Alan Lee-Nash 6th dan Renshi in Iaido and Jodo.
If you are thinking of beginning these martial arts please feel free to turn up on a practice night to watch a lesson and have a chat with us about what we do, we are a relaxed dojo and like a banter and laugh as well as taking our training seriously it does not matter if you have learnt another style or art before.
All we ask is a willingness to listen, learn and try something new
We would like to thank my first iaido Sensei Chris Mansfield 7th dan Iaido and Jodo Kyoshi for all his help guidance and support in my Budo practice over 30+ Years.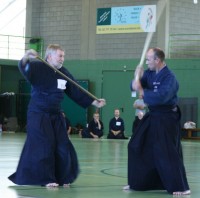 First Lessons
As a beginner training for the first time please wear some loose fitting clothes track suit bottoms and tee shirt are ideal, you will be bare foot during practice as well.
The club will usually supply knee pads, wooden boktu (sword) and obi (belt)
If you have a gi from another martial art please feel free to wear that.
You are welcome to turn up to view a lesson at any time, I would ask that you contact myself first incase we are shut for reasons beyond our control.
Practice Times and Locations
Classes run on Thursday night from 7:30pm until 9:30pm
We currently practice at 
Hook Village Hall
Royal Wootton Bassett
Swindon
SN4 8EF
Please email myself for details of beginners classes or information on how to access the dojo.
Kind regards
Alan Lee-Nash
Alanleenash@gmail.com